Almond Joy Brownie (w/ Justin's Chocolate Almond Butter)
March 28, 2011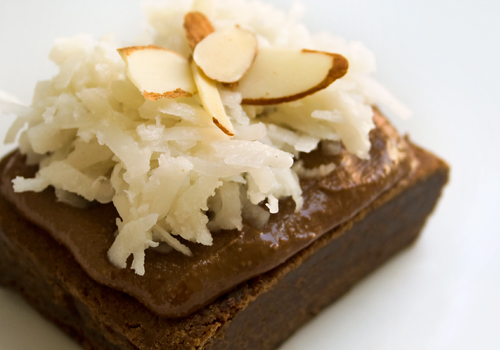 If it's one person I have to thank for my sweets addition, it's gotta be my Dad. One of his favorite candy bars was the Almond Joy - I really can't look at one without thinking of him.
When I tasted Justin's Chocolate Almond Butter, it instantly reminded me of his favorite candy bar. My mind started swirling, "How can I turn this into a crazy-good Almond Joy?". So I combined it with coconut to deck out one of his other favorite sweets: a brownie.
I'm not going to lie to you, this is a damned good brownie. It's the kind of brownie you take a bite of, let it sit in your mouth for a few seconds and let out a slow, quiet, "mmmmm." The little bit of salt in the nut butter nicely counteracts the sweet coconut topping. The added nuttiness from the butter, milk and sliced almonds give it an extra bit of depth that takes an already delicious brownie to the next level. If you're wondering what kind of brownie to use the topping on, I recommend the richest, darkest kind you can find. Ready? Set? Go.
This brownie is dedicated to my Dad. Thanks for passing on the sweetness!
Almond Joy Brownie
Yields 1 big fat tasty brownie (larger than the one pictured - I could only handle a piece)
Ingredients
1/2 tsp coconut oil
1 Tbsp vanilla almond milk
1/3 cup shredded sweetened coconut
1-1.15 oz packet
Justin's Chocolate Almond Butter
sliced almonds, for garnish
1 big fat, deep dark chocolate brownie, chilled if desired (I used
Mary Louise Butter's Sane Jane
)
Directions
1. Mix the coconut oil, milk and coconut together until combined.
2. Spread the chocolate almond butter on the brownie. Top with the coconut mixture and garnish with almonds.