F. E. A. R. L. E. S. S.
November 9, 2010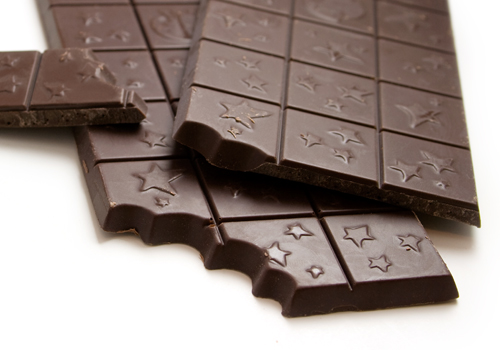 Mmm, that looks like some tasty chocolate, now doesn't it? Would you believe me if I told you that it's good for you?
I'm being serious! The brand is Fearless and there are so many ways to describe the chocolate that I made a Michael Scott-inspired memory device to remember all of it's attributes:
F un flavor combos
E xotic super foods
A nti-oxidant abound
R aw & organic
L acking gluten, soy and dairy
E xcellent tasting
S uper-cute packaging
S ales go toward customer-suggested charities
All good things, right? So what does it taste like, you ask?
I'm happy to report that it's not only quite tasty, but very different than most chocolate I've had, and as you may know, I eat a LOT of chocolate. A little variety is a good thing and I really like chocolate that pushes me out of my usual preferences.
For example, I had always proclaimed myself a "dark chocolate girl" until more recently when some really luscious and creamy milk chocolates altered my perception. In this case, I had previously tried raw and stone-ground chocolates which both have texture. I didn't care for either, so I concluded that I only liked smooth chocolate. Surprisingly, these bars have enlightened me a bit; I really liked their present, but not in-your-face texture and thought that it paired really nicely with the textures of the added ingredients.
The bar flavors are Sweet & Hot (Hibiscus Ginger), Exploding Coconuts, Dark as Midnight, Matcha Green Tea Peppermint & Super Seeds (Hemp Chai Flax). I tried all but the Dark as Midnight and can recommend all of these bars. I loved how the aforementioned texture of the bars went well with the flax in Super Seeds and the coconut in Exploding Coconuts. I thought the Matcha Green Tea Peppermint was really unique and refreshing and loved how the vibrant peppermint hit me square in the nose when I opened the wrapper. Even Taste Tester who isn't typically wild for crazy combos (and who, I didn't anticipate would even want to try this chocolate), enjoyed the more floral Hibiscus Ginger. Drats, this meant I had to share my stash!
The More, The Merrier! I liked these chocolate bars so much, that when strolling around the Chocolate World Expo in White Plains on Sunday, I came across two other chocolate brands with similar qualities and had to try em. One was Gnosis Chocolate and the other was Dina's Organic Chocolates. Among other flavors, Dina's also sold a flax bar. Clearly I had to try it to compare with Fearless's version. I will say that the added Chai flavor in the Fearless bar gave it an extra special touch, but I loved the flax in both bars.
Chocolate and… No Peanut Butter? Another similarity I noticed between the Fearless chocolate and the products at the chocolate show was that there was one ingredient noticeably missing: peanut butter. Curious, I questioned the owners of Fearless. They confirmed my suspicion which was that they (thus far) have avoided peanut butter in order to preserve their allergen-free brand. Perfectly understandable, because if there are some poor souls out there who can't have peanut butter, the last thing I would want to do is deprive them of chocolate too! They went on to say that they are peanut butter fans and that their chocolate can be used as a dipper in your peanut butter jar. Alas, we can be friends after all! :-P Now, 'scuse me while I test their suggestion…
With such great flavors, good motives and cute packaging, this chocolate would make for excellent holiday gifts. Get some for your loved ones or yourself at Fearless Chocolate.