More News and a Sweet Deal From Jer's!
June 26, 2010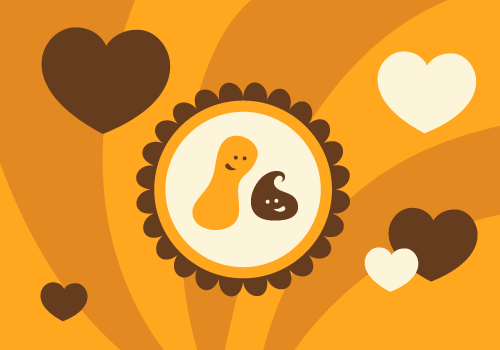 Thanks for all of the well-wishes on the cookbook! I am pretty crazy excited about it so it's hard to keep quiet on details. I can divulge that it will be out in a few months (yay!) but that's about all I've got for you right now. More info soon, I promise!
Again, sorry for the slow and infrequent posts, but I really am working my butt off on the book at the moment. I will be back in fine blogging form in a few short weeks. In other exciting work-related news, I will be working at The Fancy Food Show for the first time (fun!) this weekend at the Askinosie Chocolate booth. I've attended the show as a spectator the last couple of years, so this will be a much different experience. I will even get to attend the Sofi Awards since they won a silver for their White Chocolate Nibble Bar and are up for a gold. Congrats to them!! They 100% deserve it. Also, a new product that I designed the label for - Chocolate Hazelnut Spread, whoa! - will be at the show, but if you're not going to be there, you can check it out right on Askinosie's website.
Since I'll be busy this weekend and won't be able to post new blog entries, I'm thinking of tweeting about all the chocolate and peanut butter that I find throughout the show. You can follow me on twitter @cpbgallery for the latest in CPB right from the Javits center in NYC!
Oh and in thanks for your awesomeness, I have a coupon code to share courtesy of another wonderful confectioner & exhibitor at the FFS, Jer's Chocolates. If you fancy yourself a true CPB addict and haven't tried Jer's yet, what are you waiting for?? They make award-winning chocolate peanut butter bars that I can say from my own gluttonous experiences are quite delicious. Their line of products varies in shape, texture and spice but one thing is always constant: the glorious ever-presence of chocolate and peanut butter. In the words of Carrie Bradshaw, "Hello, lover."
I've tasted all varieties of Jer's Gourmet Peanut Butter Bars and Brittle Bites and can attest to their awesomeness. I remember being particularly fond of the very indulgent CaraMella and the wonderfully crunchy Toffee Break.
Ready to order? Just enter the coupon code at checkout to receive a 20% discount (valid through the end of July). The coupon code is: hrblog
Happy eating and thanks to Jer's for sharing the chocolate peanut butter love! <3