Reader Submission: What Kind of Peanut Butter Eater Are You?
February 5, 2010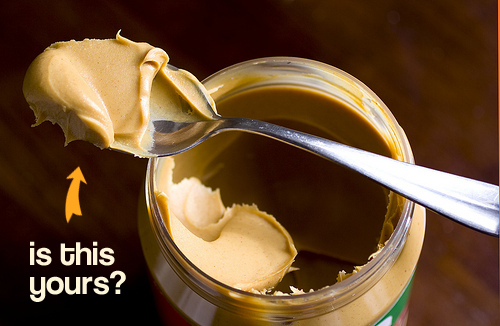 The wonderful Marni of Happy Go Marni informed me of a fun peanut butter-related post on Serious Eats, written by Peanut Butter Enthusiast Lee Zalben of PB&Co. In the post, Lee ponders people's various peanut butter eating habits.
With about 100 comments following the article, people clearly have an opinion. Quite a few comments reference my favorite combination, c&pb. One lady even puts peanut butter on Mint Oreos! Slightly strange maybe, but to quote this week's 30 Rock, "everyone has their vice."
I found this comment so sad: "I don't think I've ever eaten it straight from the jar in my whole long life." Really? What's wrong with you, lady? Live your life to the fullest! Grab a spoon - you can do it!
This post leads me to wonder what kind of chocolate eaters we are. As for me, I think some of the categories I may fit into are Hoarder, Nibbler, Devourer…
Thanks to Marni for sharing!