Jenny Loves Chocolate and Peanut Butter. Sorry, Forrest.
September 2, 2009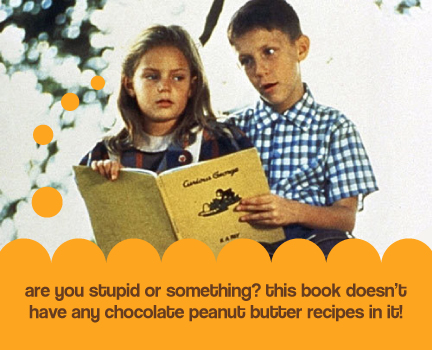 Jenny, of the awesome blog Jenny Mac's Lipsmack was kind enough to share a bunch of delicious recipes that she's made and blogged about. Here they are, but be warned - that summer diet you were so good about sticking to is about to be ruined (but you expected that from the moment you opened this site up, didn't you? Busted!):
Copycat Nutty Bars This is a homemade copycat of Little Debbie's Nutty Bars. Nutty Bars happen to be one of my all-time favorite Little Debbie snacks. I must make these!
Chocolate Peanut Butter Chip Cookies Of these cookies, she reports, "I love the rich intensity of the chewy dark chocolate, the bits of peanut butter and crunchy, slightly salty peanuts. Great with my coffee! Breakfast of champions!" Cookies for breakfast? Oh, twist my arm, why don't you.
Peanut Butter Truffle Brownies "Definitely peanut butter cup on CRACK! Moist fudgy brownie underneath the creamy peanut butter." But I was always told to stay away from crack - what do I do?? Oh, it's an exaggeration - phew. Gimme, gimme!
Peanut Butter Swag Bars I had written a post about these little gems a while back when I came across the recipe in an issue of Cooking Light. Unfortunately this is one of those recipes that has gotten stuck in my never-ending list of things to bake and has yet to make an appearance in my kitchen. Lucky for us, Jenny has made them and can report that they taste like Peanut Chews. She notes that they are, "peanutty and chewy on the inside with dark chocolate on the outside." Yum!
Thanks to Jenny for sharing these super delicious recipe ideas. Check out her blog for more tasty treats and run, Forrest, run to your kitchen to try these recipes!