Chocolate Peanut Butter Terrine with Roasted Peanuts
September 1, 2009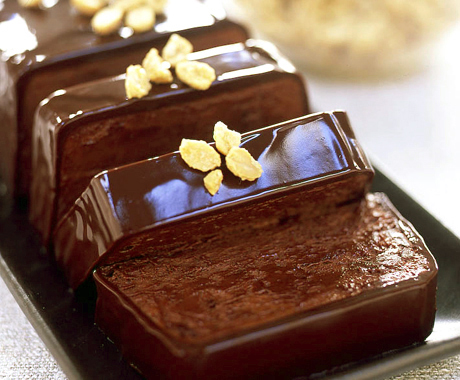 I don't know about you, but I'm not ready to let go of summer just yet! Already there's a slight chill in the air, and even though it's the first day of September (how does that always come so fast?) I have still been craving the cold, refreshing desserts of summer.
Today's recipe is for a chilled and ever-so-fancy Chocolate Peanut Butter Terrine with Roasted Peanuts. It may look difficult, but a mold is used to help shape it, so I think that it might actually come out looking like it's supposed to. Once you pop the dark chocolate peanut butter mousse filling from the mold, it even gets covered with a chocolate glaze, so if it doesn't come out of the mold perfectly, you have a layer of glaze to slather on to hide any defects. It's like concealer made out of chocolate! Hm… wouldn't it be crazy if they made facial concealer out of chocolate? But then I guess we'd all eat our make-up instead of wearing it…
What was I talking about again? Sorry, got distracted with a chocolate-peanut-butter-related daydream. It happens a lot.
Photo and recipe from Epicurious.