Feelin' lovey dovey with my 'Chubby Hubby'
August 20, 2009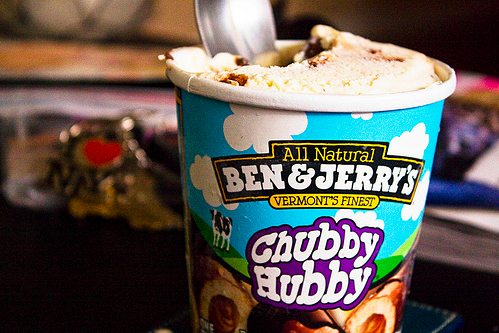 Question: If a chubby hubby eats 'Chubby Hubby' does that count as cannibalism?
Taste Tester purchased some of Ben and Jerry's Chubby Hubby on a recommendation from the friendly owner of a 24-hour bodega a couple doors down from us. Could it be? A chocolate peanut butter enabler within feet of my apartment? Eep!
Chubby Hubby consists of, "fudge-covered peanut-butter-filled pretzels in vanilla malt ice cream, rippled with fudge & peanut butter". It's pretty damned good, and the salty notes from the pretzels just make it that much more addicting. I found the chocolate swirls to be hitting the spot during an intense chocolate craving the other night and went on a personal mission to pick them all out. Taste Tester was not happy with my thievery. Maybe I should get my own pint next time…
It's a great chocolate-peanut-butter snack and just perfect for these last hot, humid days of summer! So grab a spoon and dig in!
Big thanks to Little Miss Amanda of the beautiful and inspiring blog Slow Like Honey for sharing her super tasty photos!