Reader Submissions
July 31, 2009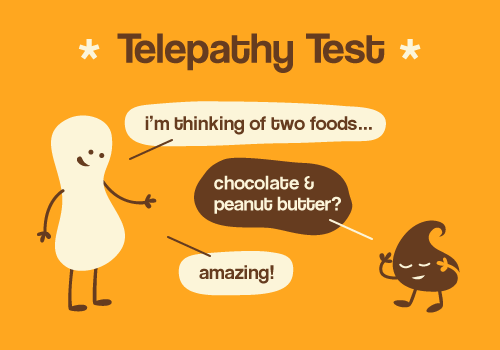 Hi everyone, sorry for the delay in posts. I had some family obligations this week and wasn't able to write - you know I wouldn't skip out on my chocolate and peanut butter without good reason!
Lucky for me, it appears that you cpb lovers have telepathic powers because in my absence, you have been nice enough to write in with some of your favorite chocolate peanut butter finds. Thanks for holding down the fort for me! Below are some of the awesome submissions I've received lately - enjoy!
A LAYERED CHOCOLATE PEANUT BUTTER DESSERT Sherry Smith-Noble shares, "a dessert for those who love chocolate and peanut butter". It starts with a buttery crust made with chopped peanuts, then gets topped with a peanut butter cream cheese layer, chocolate pudding, and finally it's all smothered in cool whip. She notes, "a former co-worker brought this to work one day. I ate an embarrassing amount of it, and then got the recipe." We've all been there, Sherry. We've all been there. Get the recipe at examiner.com.
"HEALTHIFIED" CHOCOLATE PEANUT BUTTER COOKIES Another reader wrote in to tell me about these wonderfully named, "You Got Peanut Butter in My Chocolate" Cookies. Of the recipe, its author writes, "Sometimes called 'magic in the middle' cookies, I took the butter-laden recipe and healthed it up. I know you've seen these before… but this version is much much healthier and they are so addictive… The husband and two little boys had no clue these things had prune puree and whole wheat flour in them… and they LOVED them!!!" Now, prune puree may scare you but I actually just used mashed prunes in this fantastic meatloaf recipe (I hope Taste Tester isn't reading this because he loves this meatloaf and I've kept this secret ingredient from him with the fear that he may never eat it again… haha) and it really adds great moisture and a little sweetness to recipes.
MARRIED WITH CHOCOLATE AND PEANUT BUTTER If you really, truly love chocolate and peanut butter, you may be able to relate to the predicament in this video called Real Life With Married People: Surprises!, sent in by Destin. It shows how married people deal with an unequal chocolate-to-peanut butter ratio. To avoid couples' therapy, check out the video on youtube and see more great videos on his website, Real Life With Married People.
CHOCOLATE PEANUT BUTTER ICE CREAM CUPCAKES Kendall shared her incredible recipe for Chocolate Peanut Butter Ice Cream Cupcakes - wow, could such a thing of beauty possibly exist? I HAVE to make these! And FYI, she recommends trying the recipe with chocolate ice cream as well (the recipe calls for vanilla). It's a really interesting recipe - you actually frost the cupcakes twice, once before adding the ice cream and once after to prevent soggy cupcakes. Very smart! It yields 18-24 summer-perfect cupcakes. Get the recipe on her blog, Res-o-puh-leese.
BAKERELLA LOVES CHOCOLATE AND PEANUT BUTTER Cade shared some awesome cpb recipes found on Bakerella. Check out this decadent Peanut Butter Fudge and these luscious, gooey Brownie Candy Pops! If you are somehow unfamiliar with the amazing Bakerella, you are missing out. Get over there right now!
Thanks to all of you who have written and shared your favorite treats! Please continue to send me any chocolate peanut butter goodies you find so that I can spread the word.