A Blogiversary Gift
February 25, 2009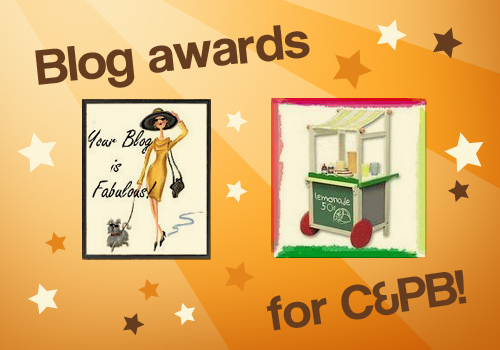 What better way to celebrate CPB's one year b-day than with some awards! I've seen cute little awards like these all over other people's blogs but have never received one myself. I am honored and humbled that Sweet Treats Dani chose me and am happy to spread the love to other blogs that I very much enjoy.
She's given me the Fabulous Award for being fabulous and the Lemonade Award for liking lemonade… er… for being refreshing! Wooo!
I'm passing these fun awards on to the following: The Baking Bird Baked Perfection Erin Cooks Happy Go Marni Confectionary Creations
These five blogs are ones that I check on a regular basis and hope that you will too. I've found some awesome CPB treats on all of them like the Rachel Bar at Happy Go Marni and this Oreo Peanut Butter Cheesecake on Baked Perfection.
To the recipients:
Add the awards to your blog.
Link to the person who gave you them.
Nominate other refreshingly fabulous blogs you love (with their links).
Leave a message for your nominees in their blogs, informing them about the award.
You guys can download the Fabulous Award here and the Lemonade Award here. Thanks for being awesome! Is there an awesome award? I'll look into it…
Thanks again, Dani!