Valentine's Day Chocolates
February 6, 2009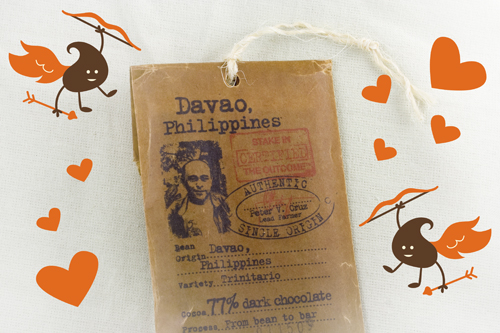 It's pretty traditional when sniffing around for Valentine's Day chocolates, that you look for something red, pink and/or in a heart shaped box. Don't get me wrong, I'm perfectly happy to be on the receiving end of such a gift, but sometimes it's nice to be a little unconventional.
I woke up on Valetine's morning last year, to find a wooden box that wasn't red, pink or heart shaped. It didn't really look girly in any way - if anything, it looked industrial. What made the gift so sweet was that the box was adorned with a cute handwritten note and filled with a treasure trove of amazing, amazing chocolate.
My heart melted (though thankfully the chocolate stayed intact). A not-super-girly customized gift filled with chocolate. It was the perfect sentiment for me.
I've kept a close eye on Askinosie's product line since then. In the past year, they've released many new products, most - maybe all? - of which I've tasted. The latest release is the Davao 77%, a truly fantastic bar that's easily one of my favorites. I'd love to give you details on what fruity notes, etc. the bar has, but when eating it all I really think about is gobbling up ten more of them. It's super dark, rich and yummy and that's all you need to know. You can get more information and testimonials on their website.
I have been long overdue on an Askinosie post. There are more photos of this bar and other stellar products of theirs. You will see them soon, I promise!
Looking for peanut butter in this post? Me too. I think it's time I wrote Askinosie a letter and begged them to make a peanut butter bar. I'll get going on that, but in the meantime go and order some Askinosie Chocolate for your sweetie for Valentine's Day. You can get the Chalk-late Box or the new Davao 77% bar. And try not to eat it all yourself since, that kind of defeats the purpose of getting someone a gift.