Choco-Peanut Butter Banana Breakfast Strudel
January 11, 2009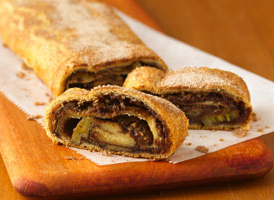 The caption for this recipe states, "nobody skips breakfast when flaky crescent rolls hold layers of chocolate and banana filling." They forgot to mention the peanut butter, but it's okay - I'm too mesmerized by the deliciously sweet swirls in that pic to care too much.
I bet this would also be great served warm as a dessert and topped with some ice cream. You could then have leftovers the following morning for breakfast. Moderation, be damned! :)
Get the recipe for Choco-Peanut Butter Banana Breakfast Strudel from Pillsbury.
Ogling the chocolate swirls in the above pic reminded me of the swirls in the fabulous Chocolate Babka from Dean and Deluca. It looks like this. Do you want some or what? Get it at Dean and Deluca or try making this version from the ever wonderful Smitten Kitchen.