Quick Link: Peanut Butter Bars (Two Versions)
December 16, 2008
Hey everyone! I know I've totally been slacking, but don't worry I've been thinking about you and trying to break away from overspending on holiday shopping to write a post. Things are a little too busy at the moment to write my usual long photo-heavy posts, so rather than stop writing completely, I am going to link to delicious recipes I find elsewhere so you can still get your peanut butter fix and find fun CPB holiday recipes! I promise to write a big long post as soon as I get the chance, though I might need a Christmas miracle!
That said, let's try it out. Here goes!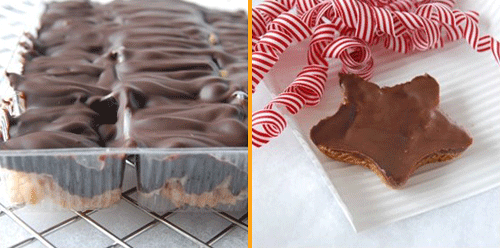 Every Christmas our family exchanges homemade baked goodies with four other households on our block. I am the baker of the house, so that means that every year I end up in the kitchen for a good four days leading up to Christmas baking all kinds of crazy cookies, bars and cakes.
This year, however I am a little strapped for time (more so than usual) and have been on the lookout for quick fix recipes so that I can still treat the neighbors but not quite kill myself while doing so. Because well, that wouldn't be very festive. Taste Tester found these two variations on a quick and easy Peanut Butter Bar recipe in a post on Whisk a Food Blog. One version has Special K cereal, the other has oats. Both of course have chocolate and peanut butter! Get the recipes at Whisk a Food Blog.
Thanks, Taste Tester for the link!! Although now that I think about it, I wonder if this was maybe a backhanded way of him tricking me into make a batch of these for him, rather than an act of pure blog-related kindness. Sneaky, Taste Tester, very sneaky! :)