Voodoo Doughnut - The "No Name"
October 2, 2008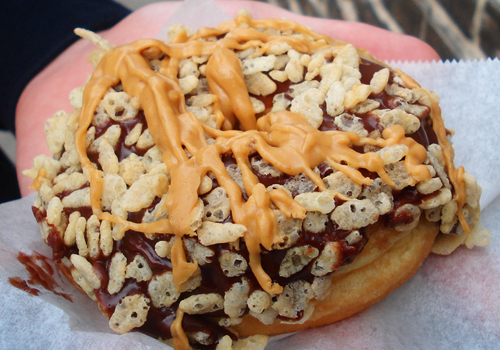 Meet Voodoo Doughnut's crazy chocolate peanut butter doughnut. It's called the "No Name" because it's "a doughnut so good we couldn't come up with a better name. It has chocolate, rice crispies and peanut butter on it."
They also have a doughnut called the Memphis Mafia* which includes chocolate chips, banana, peanut butter and glaze. And just like that, I think I love this place.
Apparently November 5th is National Doughnut Day, so if you need some motivation to get out to Portland for the sole purpose of stuffing your face full of Voodoo Doughnuts, you are just in time to book your trip! Offices give off work for holidays in the name of pastries, right?
If you can't make it there for National Doughnut Day you can join in one of their monthly doughnut eating contests on the first Friday of every month. Clearly, this place does not mess around.
Thanks to flickr user jennvincent for sharing this tasty photo!
*Note: I googled Memphis Mafia because I had never heard of it before and Wikipedia defines it as "the nickname for a group of friends, associates, employees and "yes-men" whose main function was to be around Elvis Presley from 1954 until he died." Noooow it makes sense… Elvis and his notorious pb sandwich inspired a peanut butter banana doughnut. Neat.