Bread Alone's (Smashed) Chocolate Peanut Butter Muffin
September 9, 2008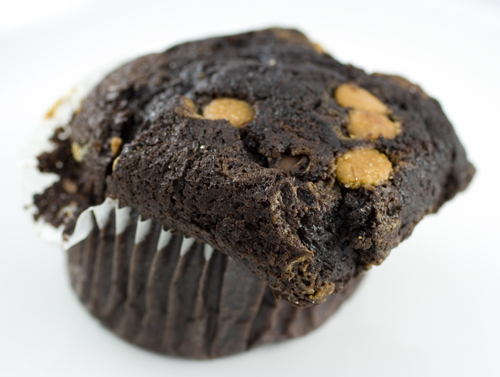 Poor little muffin, you got smashed and then eaten. Oh, what a sad fate you had.
There are a few things I simply can't resist. Chocolate. Peanut butter. Cookbooks. And farmers markets.
I can't walk past a farmer's market without taking a peek and at least buying one thing. We walked through the Union Square Green Market in NYC on the way to lunch the other day and scoped out the goods. Many booths caught our eye, but the one we ended up buying from was Bread Alone.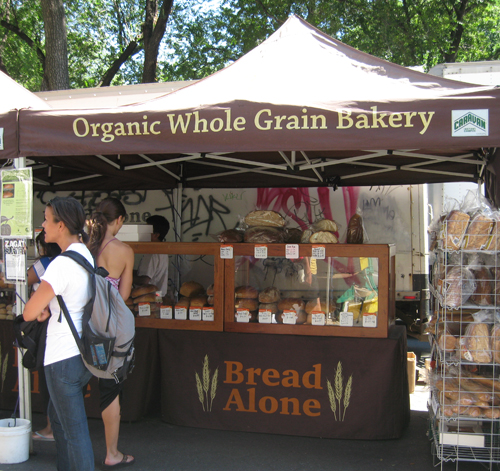 I knew I should have taken a photo of the muffin I bought before commuting home so that A) it wouldn't have any bites taken out of it and B) it wouldn't get smashed on the way home. Well, I decided to wait and took the photo at home and of course it got smashed before I got there. Being that it was already smashed, I decided it was silly to wait and just went ahead and took a bite out of it. So sorry for the misrepresentation, but despite it's sad appearance, this muffin was really good.
It was a bit of a surprise that this muffin was so good because I also purchased a corn muffin at Bread Alone's stand which was sadly lackluster. Shocked that I went for the corn muffin before the chocolate peanut butter one? I love chocolate and peanut butter but a good corn muffin is hard to find and I LOVE corn muffins.
Anyway the corn muffin was dry and kinda bland, but this muffin had a nice deep chocolatey flavor and was really moist. My sole complaint about it was that I'm pretty sure they only sprinkled a few peanut butter chips on top and didn't actually put any into the dough. So by the time I was through the top half of the muffin, only chocolate was left. In retrospect rather than sitting there wishing it had more peanut butter chips, what would have fixed this experience would have been a nice slathering of peanut butter! Man, would that have been stellar. Despite this flaw I will certainly be purchasing this muffin again because it was pretty darn good.
See how moist and chocolatey?…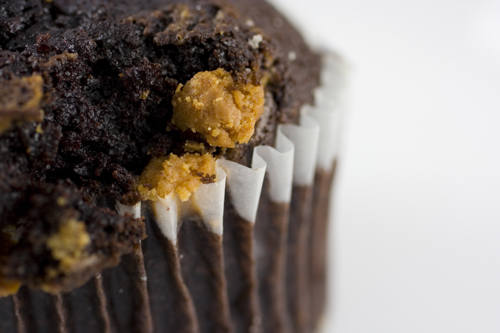 The next time you are near the Union Square Green Market in NYC grab yourself a chocolate peanut butter muffin from Bread Alone or visit one of their cafes in NY State. I'm not sure if the recipe for this muffin is in their cookbook, but you might want to check that out as well. It can be purchased at Amazon.