Hero Sized Peanut Butter Chocolate Chip Cookie
July 10, 2008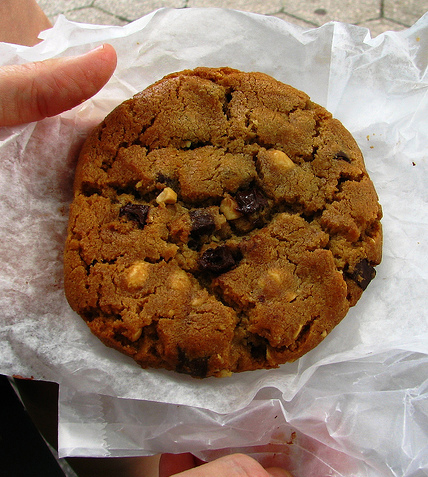 The above cookie is from Columbine in NYC.
This picture found on flickr kind of made me re-realize how much I love cookies. I think cookies are the sweet treat I crave the most. And this one looks just about my speed - lots of chips, some nuts thrown in… it's hard to tell from the photo if it's soft or crunchy but either way I'd like to take a bite. Because when I get a craving for a chocolate chip (or peanut butter chocolate chip) cookie, I just have to have one!
Some favorite cookies I've tried recently:
• Feed Your Soul in Jersey City, NJ - I recently found out that they're also sold in Empire Coffee and Garden of Eden in Hoboken, incase you're in the area and on the look out. However, if you're not anywhere near here, you can also order them online. Read a full post about them here.
• Milk and Cookies in NYC - The peanut butter and chocolate sandwich cookies were a little disappointing but the chocolate chip was superb.
• Kashi Oatmeal Dark Chocolate Cookie - Perhaps not the most indulgent of cookies, but you don't feel so bad after eating one… or two… or eight.
• Oh, Sugar! - I'm going to have to order more of these to confirm this is the company I'm thinking of because I stupidly threw out the cookie bag before writing down the name of the company. I think I was too embarrassed by my gluttony after devouring these cookies and chucked the wrapper right away so as to eliminate any evidence. I constantly preach about my love of soft cookies… well, here comes some contradiction because these are quite crunchy… but I LOVED them. The cookies are about the size of a quarter (yes - a quarter… they are super small) and have a similar flavor to Famous Amos, but better.
Note: Famous Amos is also an exception to the "soft cookies only" rule. So are oreos. Mmm… Oreos. … What was I talking about?
Thanks to flickr user Danburg Murmur for sharing this lovely photo! Read of his culinary adventures on his blog.