Fourth of July Chocolate Peanut Butter Fondue
July 3, 2008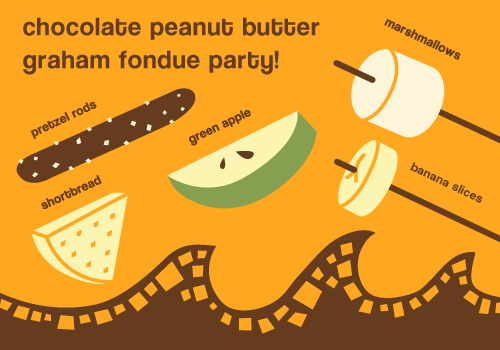 News Alert: The Chocolate Peanut Butter Gallery is taking a short break from Fancy Food Show Coverage in lieu of the holiday. Full coverage shall resume tomorrow!
Holidays are busy, it's hot and there's a pool calling my name. I don't want to be slaving in the kitchen making some elaborate dessert and I'm sure you don't either.
Don't fret. You can whip up this fun Chocolate Peanut Butter S'mores Fondue in five minutes. It's got melted chocolate and peanut butter chips with marshmallow creme (aka fluff) mixed in. It's served with a bowl of crushed graham crackers so your guests can dip into the chocolate mixture and then dip into the bowl of graham crackers, coating their treat. Dipping with granny smith apples as suggested in the recipe is a great way to lighten the dessert and keep it refreshing on a hot day. However here are some other great things to add to your grocery list if you want some variation on your serving platter (read below or see above illustration):
• pretzel rods • shortbread • marshmallows • bananas slices (fresh or frozen)
Of course if you're not into the dipping, you could pour a spoonful of the chocolate mixture over dessert. Yum! Get the recipe at Very Best Baking.
Happy Fourth of July!