Martha Stewart's Brownie and Peanut Butter Ice Cream Sandwiches
June 27, 2008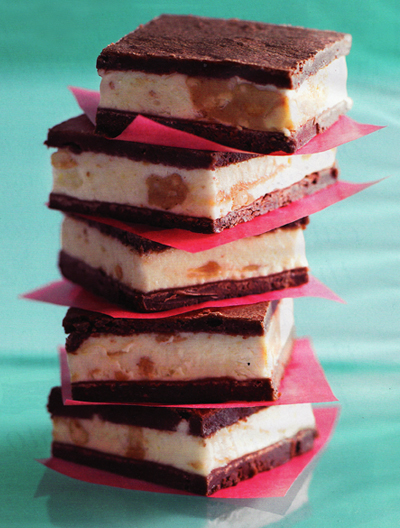 I had a little bit of time to kill before work the other day and browsed the cooking magazines for something to keep myself busy. Nothing jumped out because all of the covers kind of looked the same. Every magazine boasted either it's best grilling recipes or photos of gigantic burgers.
This was all well and good, except that I don't really grill, so I ended up grabbing the July issue of Martha Stewart Living, which showed an array of summery drinks and bowls of sherbet on the cover. I had never purchased this magazine before since it's not cover-to-cover recipes. Most of the recipes it has are interesting (though it has a burger section as well) but a lot of it talks about flowers and I can't grow a flower to save my life. This, of course, is not the magazine's fault, it's just a testament to why Everyday Food is a more appropriate magazine pick for me - and you, if all you care about is her recipes.
Grabbing the magazine was a good plan though as there was a nice summer dessert section that included these gloriously perfect looking Brownie and Peanut Butter Ice Cream Sandwiches. I'm almost a little intimidated from trying recipes like this when the picture just looks soooo perfect for fear that the version in my kitchen will be a sad sloppy imitation of the glossy magazine photo. But you know what? As long as it tastes great, who cares if the presentation isn't quite magazine worthy? It's not like your guests will be comparing your dessert to the photo. Unless you've invited Martha herself to your BBQ. In which case, she should probably be doing the baking anyhow. :P
Get the recipe at Martha Stewart Living or pick up the July issue. Even if you're only interested in the recipes, the magazine's photography alone is plenty feast for the eyes.