Sex & The City Chocolate Peanut Butter Quote
June 19, 2008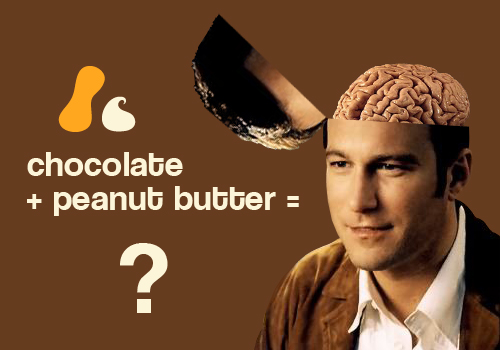 While watching a re-run of Sex and The City last night, Carrie came to this conclusion as she reflected on her unsteady relationship with Aidan:
"I got to thinking about relationships and partial lobotomies. Two seemingly different ideas that might just be perfect together - like chocolate and peanut butter."
I didn't get to jot the quote down at the time because Taste Tester walked in the door just as she said this. Every time he catches me watching the show he feels the need to go on a little rant about how awful it is, so I got distracted. This morning I found the quote at this Chocolate Quotations site, a fun page full of chocolate related quotes from various famous people and tv/movie characters.
Obviously chocolate and peanut butter go together way better than relationships and partial lobotomies. I guess we can blame Carrie and Aidan's break-up on her misunderstanding of c&pb.