80's Reese's Peanut Butter Cups Commercials
June 16, 2008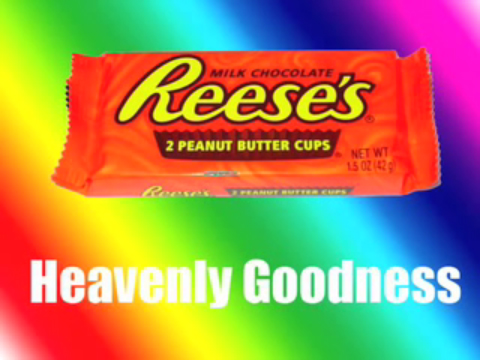 Searching for chocolate and peanut butter on YouTube provides a fun trip down memory lane. Some of these Reese's commercials I remember and some I don't, but they all give you a warm and fuzzy feeling and help you recall just how wonderfully corny the 80s were. Here are a few for you to enjoy:
And this 1979 commercial is for Reese's Pieces which don't have chocolate, but it was just too ridiculous not to post.
Unfortunately this YouTube search also finds a lot of gross parodies with phrases like "One wrong way to eat a Reese's". So if you decide to search around yourself, be careful what you click on.
The "Heavenly Goodness" graphic is part of this homemade Reese's Commercial. The commercial is pretty strange but I just couldn't pass on that graphic.