Mrs. Prindable's Caramel Apple (Continued)
June 3, 2008
WHOA.
Last week, I wrote a post about this crazy looking caramel apple made by Mrs. Prindable's. Since writing the post, I was lucky enough to get my hands on one.
And when I say I was lucky, I mean it.
Unfortunately I did not get to take a photo of the inside of the apple, which is a shame because the presentation is quite impressive. It cuts open easily which is surprising considering the outer coating is 1/2 inch thick layer of caramel, peanut butter chips, dark chocolate and whole almonds. The green apple inside was super fresh and though I've had apples, peanut butter and chocolate together before, I never threw caramel and almonds into the mix. Wow have I been living in ignorance. It's a delicious combination and especially so with the fresh ingredients they use. It's like you're eating a nutty, chocolatey caramel candy bar with a green apple inside. Indulgent but refreshing - a delicious oxymoron.
Even before I cut into it, the apple smelled awesome. I felt really bad having my taste tester take pics of me with it because he could smell it but couldn't partake in the deliciousness due to an almond allergy. Poor guy.
I thought it looked tasty standing upright but then when I turned it upside down, what a surprise…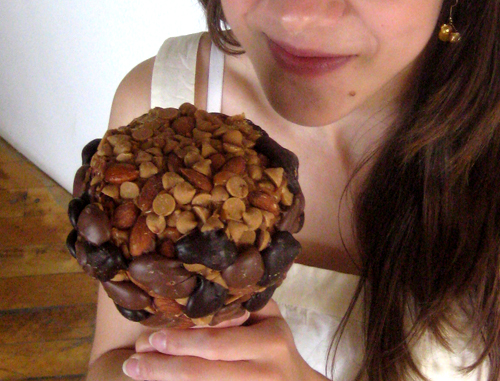 …TONS of peanut butter chips! And the picture below made me laugh because it resembles the pose that fishermen have when they just caught a giant fish. Yes, I am that proud of it.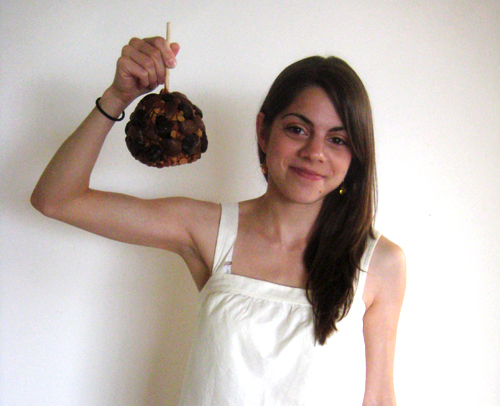 The next time you want something impressive to bring to a party, order a Mrs. Prindable's Double Chocolate Peanut Butter Almond Caramel Apple. It seems that this snack works best if it is all devoured in one shot (as it would be at a party full of hungry people) so the apple doesn't have a chance to brown.* Because if you let that happen to it I will have personal beef with you. Seriously, I'll tell your mom.
Note: If you are at all concerned about delivery and what kind of condition it's in when it gets to you, rest assured these people know what they are doing. The apple came in a triangular plastic wrapping that sat in a cardboard casing, surrounded by long lasting ice packs. All this was wrapped up in a Thermal Shield package so it stayed cool in the awfully humid NJ weather and arrived looking flawless.
I managed to sneak home with a sliver of the apple and stuck it, tightly wrapped in my fridge. It only browned a teeny bit and still tasted as if if had just been cut open. So this warning is more for looks than taste. Maybe they use magic apples?