Flourless Peanut Butter Chocolate Chunk Cookies
May 27, 2008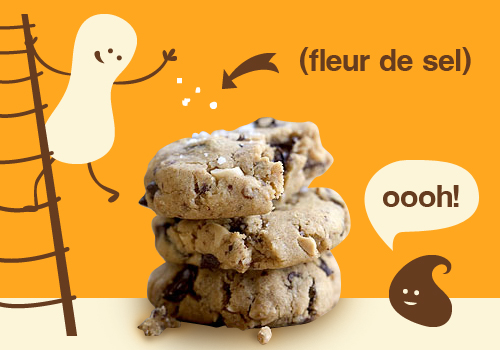 This recipe for Flourless Peanut Butter Chocolate Chunk Cookies is from Recchiuti Confections of San Francisco. I really enjoy it when chocolate companies include recipes on their websites, because it seems that of all people they know their chocolate (or chocolate in general) best and therefore know the best ways to put it to use. Recchiuti shares quite a few delicious sounding recipes which also includes a divine looking Valrhona Chocolate Bread Pudding.
The founder, Michael Recchiuti also wrote a cookbook titled Chocolate Obsession. I'm not sure if this recipe is included in there, but it contains more than 60 recipes and you can even get yourself a signed copy.
Also, ever since I discovered Marie Belle's beautiful silkscreened chocolates I've been a bit of a sucker for this decorating technique. Recchuiti also sells silkscreened chocolate, including an adorable - I mean manly Father's Day Set of silkscreened burnt caramel chocolates.
Get the recipe for Michael's Flourless Peanut Butter Chocolate Chunk Cookies at Recchiuti. I love that the recipe recommends to finish the cookies with fine grain fleur de sel, because sweet + salty = yummy!!! I also generally trust a recipe more when the writer takes time to specify the exact ingredients you should be using. At the bottom of this recipe there are footnotes that instruct you to use organic peanut butter with a sole ingredient of peanuts because it has a "great mouthfeel" and fleur de sel instead of grey sea salt because the flavor, like the aroma, is more floral and less briny than other sea salts."