Chocolate Peanut Butter Cheesecake Pops
May 27, 2008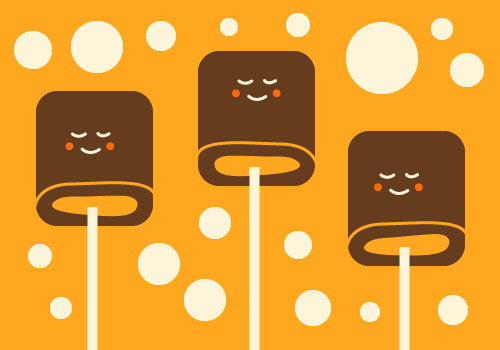 It's Tuesday. Back to work. The decks and backyards have been cleaned up and the Memorial Day BBQ fun is over. But do not despair, a summer of backyard parties has just begun!
Cooking magazines have endless arrays of grilling recipes for such occasions. The chocolate and peanut butter combination is not typically known as a summery one. Most cooking magazines that are out there this month are featuring sorbets and desserts with berries and have all but forgotten the best combination in the world. So tragic.
But it's okay - I'm here for you. I found this lovely recipe for Chocolate Peanut Butter Cheesecake Pops over at Food Network. They are little square shaped chunks of peanut butter cheesecake dipped in a chocolate glaze, that sit on a stick. The recipe states that they are great fresh or frozen. While I wouldn't leave these to sit out too long while you're relaxing in the sun, that's likely not a concern because they will probably be snatched up quickly. Plus they're fun for kids and adults. Adults like em because they're small and eating a miniature dessert doesn't feel too sinful and kids love em because… they're on sticks, I guess.
So this summer when you're freezing your butt off in shorts near the refrigerated section of the grocery store, pick up some cream cheese and make some Chocolate Peanut Butter Cheesecake Pops.