Chocolate & Peanut Butter Lip Glosses
May 17, 2008
WARNING: You may want to eat the contents of these photos but do not. Please exercise will power when using these products. When purchasing, also buy yourself a cookie should cravings be persistent.
Don't you hate it when you see a snack, be it chocolate and peanut butter or some other type that claims it has zero calories, but it's really some kind of mean misleading trick? Well, these really do pack a chocolate and/or peanut butter flavor with none of the calories to take away the fun! Yay! Introducing, a few lovely varieties of chocolate and peanut butter lip glosses!
The above photo features Scharffen Berger's Ganache for Lips including (from left to right) Vanilla Mousse, Mocha Latte and Mint Chocolate.
You can definitely buy a cheaper lip balm or chap stick at the drug store, but why would you want that other waxy stuff when you can taste sweet chocolate on your lips? I have been a fan of this line of chap sticks for years now. They don't sell em at every pharmacy out there, but I picked these up at Whole Foods so they should be easy enough for you to find. Up until now I had only tried the Mint Chocolate, which is fantastic, but this time around it's all about the Mocha Latte. Sooo chocolatey!
It seems kind of wrong that this is the first time that I've mentioned Scharffen Berger. I was pretty obsessed with their chocolate for a while there, so much so that I made sure to visit their factory while on a trip to San Francisco a couple of years ago. They unfortunatly don't have a Chocolate Peanut Butter flavored lip ganache (yet… hint, hint) but we can picket outside their factory until they do! Who's with me?!
No one? Fine. Moving on…
There's also this lovely Chocolate Truffle Lip Gloss by Cheeky Chimp that my mom had picked up for me. It looks like a Ferrero Rocher and adds a little glittery sparkle to your lips. It comes in Milk Chocolate, Chocolate Orange and Chocolate Cherry. I've personally never been a fan of the stick-your-finger-in-em lip glosses (I actually just put some of this one on my lips to help me write about it and got a nice smudge of it on my laptop's L key. Sorry, L!) but the fun packaging almost makes up for it.
Now, those are all well and good, but you want some chocolate AND peanut butter, now don't you? Well, first up we have Hershey's Reeses MEGA BALM.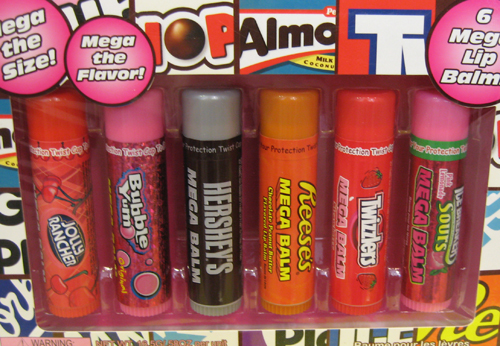 On my recent trip to various NYC Candy Stores, I came across Reeses Chapstick and Lip Gloss at the Hershey Times Square Store. They sold it separately and in this fun variety pack. Personally, I love variety packs because you can either keep them for yourself and taste something new every day or share em with your buddies. Of course if you buy it on it's own, the Reeses Lip Balm comes in many different shapes and sizes and can even be hung from your keyring.
However, if you're a Ben and Jerry's fan you might prefer their adorable mini ice cream container lip balms. They come in Chocolate Fudge Brownie, Chocolate Chip Cookie Dough and of course, Peanut Butter Cup. The only down side to this is that they're somewhat hard to find. Most sites link to the UK Ben and Jerry's site, but it seems the page has been removed. Luckily they have em on Ebay.
Out of the products I've tried, the Scharffen Berger is the clear winner over the Cheeky Chimp for both taste and convenience. I have yet to try Hershey's product but being that it is the only chocolate AND peanut butter one (that is readily available) out of the group, it's got a leg up on the competition!
These lip glosses will win your heart with their delicious smells and flavors. Not to mention if you kiss your special someone, you won't have to worry that you're torturing them with awful tasting lip stick!
*Note: I just had to mention this even though it's not chocolate and peanut butter… on my web search for some of the above mentioned cosmetics, I came across this: CHEETOS LIP BALM! Ewww! Cheetos gross me out, so I might have a biased opinion but I just find that incredibly repulsive! Appropriately, I found it on a site called Strange New Products. The same company, Lotta Luv also makes a Twinkie flavor that I can't make up my mind on and a Cinnabon flavor that actually sounds really good.