Lesser Evil Peanut Butter Choco Kettle Corn
May 14, 2008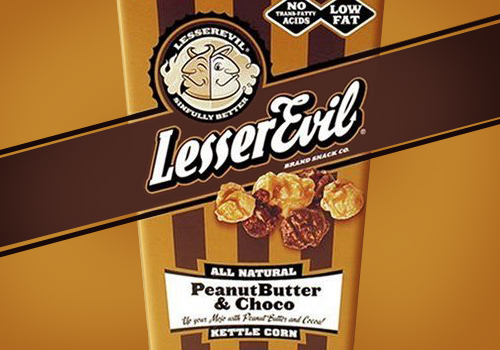 I know that I've mentioned before how much I love salt, but incase you missed it, here it is again:
I LOVE salt.
The combination of sweet and salty never gets old for me. Lesser Evil sells many delicious kettle corn flavors, but the one that caught my eye was, of course, their Peanut Butter Choco flavor. They say "kernels with a dark cocoa coating intermingling with creamy natural peanut butter coated popcorn is a beautiful thing." Anyone out there care to disagree? Yeah, I didn't think so.
I'm such a sucker for packaging. I like their product without even tasting it. And apparently I'm not the only one. NOTCOT also took note of their fun pattern and festive packaging noting, "best of all is really this pattern of graphics they designed which is on the foil/plastic wrap in the box, as well as a desktop wallpaper available on the site."
Grab yourself a beautiful box of Lesser Evil's Kettle Corn (to taste, if not just to look at) at your local Whole Foods or place an order on their website. It looks like the smallest amount you can buy on their site is a 4-pack, but one box wouldn't really enough anyway, now would it?