Vosges Red Fire Chocolate-Covered Tortilla Chips
April 25, 2008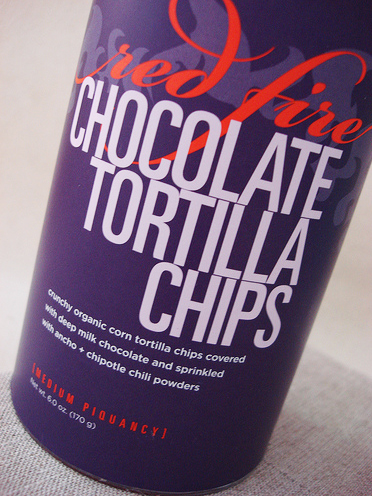 This is sort of a continuation of a previous post. I tried an experiment a bit ago and created a recipe for Peanut Butter Bean Dip to be served with Chocolate Tortilla Chips by Food Should Taste Good. Unfortunately the name lied and they didn't taste good. The Peanut Butter Bean Dip was yummy, but after rejecting the chocolate tortilla chips, I proceeded to eat them with just your standard Tostito.
However, recently I discovered Vosges Red Fire Chocolate-Covered Tortilla Chips. And considering I have yet to taste something by Vosges that I don't like, let alone that I don't completely freak out over due to overwhelming deliciousness, I can't wait to pick up some of these. I should also mention that The Red Fire Bar might be my favorite of the Vosges Bars. Might be. It's certainly not an easy decision to make.
Maybe using these as a scoop for the dip would be good, maybe it wouldn't… either way, I'm dying to try these!
Photo by flickr user travelingrhinos.