Chocolate Peanut Butter Brownie Sundae
April 22, 2008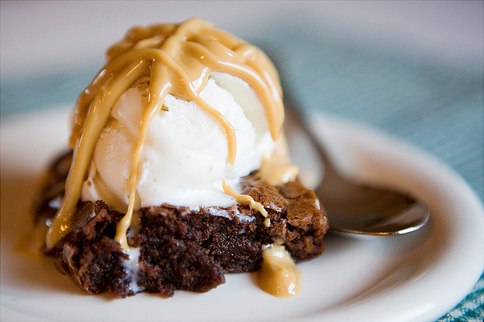 I don't know about you, but Wednesday is always a bit of a tough day, especially around early afternoon. You're only halfway through the week and halfway between lunch and dinner. You're feeling anxious and your tummy is growling. What better way to get through it than with something sweet? And I'm not talking about a vending machine snack.
This photo features a chocolate-peanut butter brownie with vanilla bean ice cream and peanut butter fudge sauce. The photographer, flickr user [Christine] titled it "Sinful" and appropriately so.
Lucky for you, if you missed your opportunity this time around, hump day will be back next Wednesday…and the Wednesday after that, and the Wednesday after that… So if you can't sneak out to your local store at this very moment, next time around on your way to the office, grab yourself some vanilla bean ice cream, a fresh super-chocolatey brownie from your local bakery and store-bought (or homemade if you prep the night before) peanut butter sauce. It might just make your day and your week a little brighter.
I also found a full recipe for a crazy sounding Peanut Butter Brownie Sundae by Emeril if you're in the mood to go all out. It's over at Food Network. Who says you need a special occasion to have an ice cream party at work?
Now your challenge won't be getting through that hump in the week, it will be fending off co-workers from stealing a bite of your snack!
Thanks to flickr user [Christine] for sharing her photo.