Harold Import Inc's Peanut Butter Mixer
April 9, 2008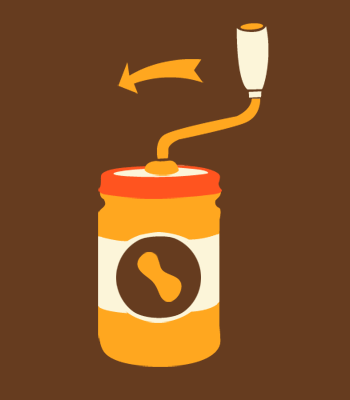 In honor of "Crazy Ideas Week" here in chocolate peanut butter land, take a gander at this crazy gadget. You know when you open a jar of natural peanut butter and the oil has separated from the blended peanuts? Well you can stop using a butter knife at an attempt to whip it back to submission and purchase this fun looking device. (see a real pic of it here) It goes by the fantastic name "Grandpa Witmer's Old Fashioned Peanut Butter Mixer". Because while Alton Brown and his hatred of "kitchen uni-taskers" might not approve, wouldn't grandpas everywhere just love this thing? You simply replace the lid of your peanut butter jar with this lid and turn the handle.
I'm not sure if this is a genius product or a good example of how lazy Americans have gotten, but either way it's funny. Can you not help but giggle a little bit at this ridiculous contraption? Would you actually ever by this thing or do you think it's just another gimmicky device to crowd your cabinets?
If not for yourself, buy one for dear old gramps at Lehman's.
There is another version sold at Smuckers, though it doesn't have as cool a name.