Rachel Ray's Peanut Butter Poodle Pancakes
March 29, 2008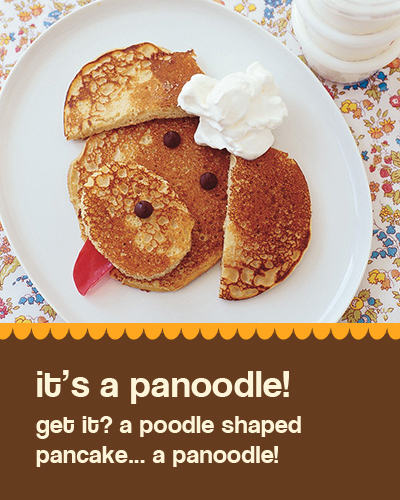 Some people love Rachel Ray, and some don't. I find her recipes to be hit and miss and I definitely don't believe that you can get most of them done in 30 minutes or less, mostly because I don't have a crew that pre-washes my veggies for me, or organizes my cabinets. Her extremely bubbly personality, strong accent and how she finds her own made up words hysterical (soup + stew = stoup! peas + pesto = peasto! omg!) gets to me quite often. But despite all this, I find myself tuning in to her show again and again and even buying her magazine on occasion. It is a strange phenomena.
I discovered these very cute peanut butter pancakes on her Everyday with Rachel Ray website. While as an adult I am now able to appreciate my food without it being shaped like some adorable animal (As a child, I was known to freak out every time we got to go to Disney World and eat Mickey Mouse shaped pancakes), I'm willing to bet kids would love these. Not to mention that cutting a pancake into a different shape is a pretty easy way to get a kid to smile. Maybe I was just easily entertained in my childhood, but I think you should give it a try!
Get the recipe at Everyday with Rachel Ray.