Peanut Butter Cup Martini
March 27, 2008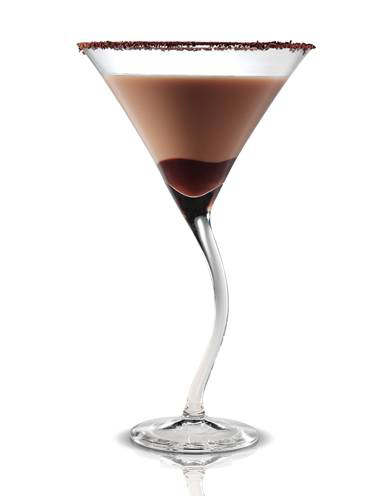 A lot of people out there like to wind down at the end of a long hectic week with friends and a drink in hand. But while others mull over some crappy beer, you and your tastebuds can dance the night away with a delicious Peanut Butter Cup Martini.
Beverage World claims that "there is only one peanut butter based spirits product in the US," and it's called Castries Peanut Rum Creme. It's made of Madagascan vanilla, roasted peanuts, spices, cream and St. Lucian rum. You can read a review of it on Scotte's Rum Pages. It is summed up as "an exquisite liqueur, with an outstanding balance of tastes." Sounds good to me!
I think discovering this liquor has opened up a whole new world of possibilities for chocolate and peanut butter beverages…
Recipe from The Polished Palate.
Peanut Butter Cup Martini

Ingredients
2 oz Castries
1 oz Godiva Chocolate Liquor
1 oz Super Premium Vodka

Directions
1. Shake vigorously over ice and strain into a chilled martini glass
2. Optional: Line the Martini glass with chocolate syrup for additional effect