A Cupcake Kind of Day
March 26, 2008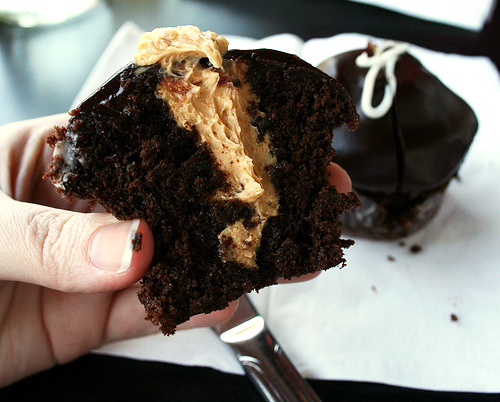 For no particular reason, this is my second post in a row highlighting a chocolate and peanut butter treat from a California venue. Maybe the warmer weather of March is getting to me… I don't know. Anyway, this handsome looking cupcake is a chocolate cake filled with what the photographer notes as a "fantastic" peanut butter filling, topped with a dark chocolate ganache.
It's from Joan's on Third in Los Angeles, CA. Joan's is a gourmet marketplace with cafe-style seating so you can eat on-site and don't have to wait til after that long ride home to gobble your cupcake. Though from what I hear of LA, you'd have plenty of stopping time in traffic so finding the time to nibble on the go shouldn't be too much of a problem. A look on Yelp shows mixed reviews of their cupcakes, ranging from "…seriously overrated. Dry and not that flavorful," to "AMAZING," so it appears they have hit and miss days. It looks as though the photo above was taken on a good day for them.
If you don't live in Los Angeles and aren't willing to throw down a few hundred bucks to fly across the country for a cupcake run (where are your priorities?!), here is a similar recipe for Double Dark Chocolate Cupcakes with Peanut Butter Filling from Food & Wine Magazine. They look just as scrumptious and can be consumed in the comfort of your own home. Yay!
Photo from flickr user pink_fish13.