Peanut Butter Brick Toast with Chocolate Syrup
March 25, 2008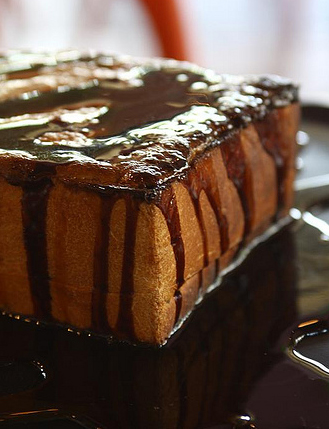 You can place an order for this brick of french toast deliciousness at Guppy Teahouse in Cerritos, CA. I live nowhere near that, which is just not fair. Winnie, the lucky photographer and consumer says "the toast is a good two inches in height and crunchy toasty on the outside but soft on the inside".
That is my ideal french toast: thick, crunchy on the outside and soft, but also moist and creamy on the inside. It's hard to tell if the version in this photo is breakfast or dessert. After reading a handful of reviews of this cafe, it seems that aside from the "foot high shaved ice", this brick french toast is the star among other more ordinary dishes. But that's not a problem… you knew what you'd be ordering the second you saw this photo.
I also agree with her that nothing is better than good food with good friends. Unless of course one of them steals a bite of your portion. In which case you earn the right to slap their hand.
Photo by flickr user aiyah.