Flourless Peanut Butter Banana Chocolate Chip Cookies
March 17, 2008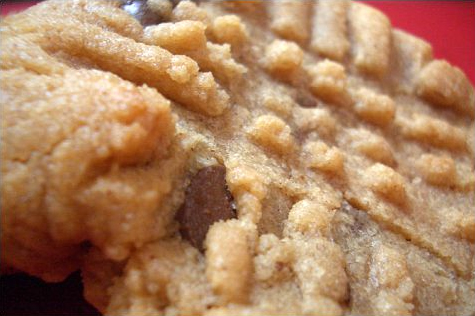 Come on, does that photo get your mouth watering a bit or what?
Assuming you didn't see the headline of this post, could you tell by that photo that these cookies are flourless and vegan?! Well I think it's pretty great that one recipe can satisfy not one but two special diet needs. And if you scroll down past the recipe (see the link, below) to read some of the reviews, all of the users rave about them. How could you not? A super simple gluten-free vegan recipe with only 6 (normal) ingredients, that is apparently fool proof too. One of the commentors said they used applesauce instead of banana and baking powder instead of soda and they still came out great. Sounds like this is a perfect recipe for beginner cooks. The comments also say that 11 minutes was perfect, 12 was too long and that the cookies harden up a bit as they cool, but remain chewy. So have fun experimenting a bit with the ingredients, but don't over bake.
One user even repurposed the dough for pie crust. I'd bet a chocolate filling with walnuts would taste super combined with the banana in the crust.
Get the recipe at vegweb.