Peanut Butter Cup Brownie Bites
March 16, 2008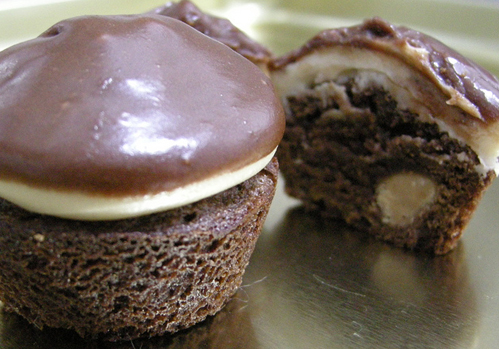 My last two blog posts about granola and a superfood protein bar have been fairly health-conscious, so how about something indulgent?
Michelle (or MiVi) of the delicious blog sweetmeup was kind enough to share her recipe for these adorable mini brownie cupcakes. Peanut butter chips are hidden away inside brownie batter that is made with melted semisweet chocolate. This base is smothered with a layer of peanut butter frosting and topped off with a hard chocolate coating.
It seems like a lot of c&pb recipes I find are topped with a creamy chocolate ganache layer. That method is great and all, but I found the use of a hard coating in this recipe to be a nice change of pace, and I imagine it would provide a good textural contrast to the soft peanut butter frosting layer beneath.
Besides chatting about this recipe, I also want to take a moment to point out sweetmeup's gallery full of photos of her many sweet creations. I particularly love the bunny cupcakes with almond ears- a great decorating idea for the upcoming holiday. Her photos are a great resource for some baking inspiration. And if you live in the Toronto area, maybe you'll be lucky enough to sample some of her treats. More info here.
Get the recipe at sweetmeup.
Photo by flickr user miVi3k.