Bear Naked Heavenly Chocolate & Peanut Butter Granolas Review
March 15, 2008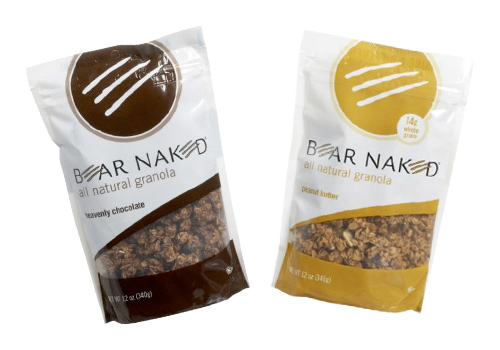 I was excited to find out that Bear Naked released chocolate and peanut butter flavored granolas. I eat cereal almost every morning and love having hints of chocolate and peanut butter mixed in.
Unfortunately I can't help but feel like there's something missing from both of these. They seem to have a 'watered down' flavor to them. They are okay to snack on but once you add milk they almost lose whatever little intensity they have to begin with. Of the two, I prefer the peanut butter because I desire only the most intense chocolate out there, and their chocolate granola simply does not cut it for me. Though it would probably taste chocolatey on top of a bowl of cocoa krispies. Heh.
It makes me sad. I felt like every time I opened one of the bags, there was a futile hope that they'd somehow have a more potent flavor than the last time they were opened. Next time I feel the c&pb craving, I'll try coming up with a more intense homemade version. I also look forward to trying Erin Baker's chocolate and peanut butter granolas. Maybe they have more of a punch?