Vanilla Cupcakes with Peanut Butter Chocolate Ganache
March 12, 2008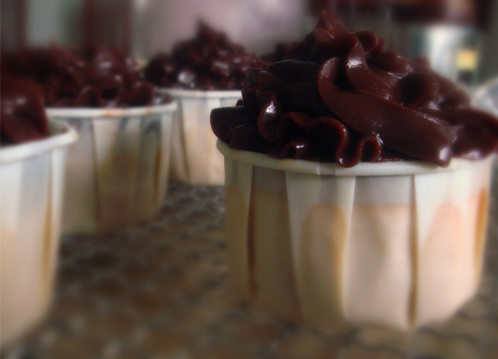 The blog experiment is on a mission to make a cupcake that's a bit less sweet.
A cupcake that's less sweet? Poppycock, you think? Well, you non-believer, I'm all for it. Cupcakes are fantastic, but half the time I can't finish one in a sitting because they're too sweet. And for how tiny they are, that's just sad. She's experimenting with making a buttercream with less sugar, and you've gotta admit, it's a bit scary seeing all of those many cups of powdered sugar blend into your icing.
As she explains in the post, she ended up using a chocolate peanut butter ganache - with only 2 tablespoons of powdered sugar! - for this recipe instead. Since they have only a bit of sugar, and lots of chocolate, peanut butter and cream I'm willing to bet these cupcakes are super rich instead of super sweet. Yum.
You can read more about them and get the recipe here.
Also I really love using these nut & party cups for cupcakes. There's something fun about eating an elegant mini-cake with a spoon.
Photo by flickr user sqpixel.