Red Eye Rice Treats
March 2, 2008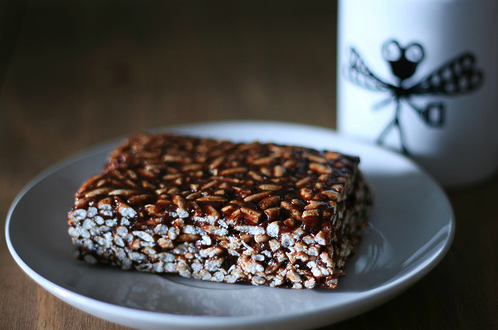 Of all the fancy and complicated cakes, cupcakes, cookies and other various baked goods I make, my boyfriend's favorite is the ever simple rice krispie treat. I'm not sure if that makes making complicated treats a little disheartening, or if it's fantastic that he loves something that's so easy to whip together. But why overthink it? I love krispie treats too. And these have caffeine in them, which is an extra bonus. The recipe is vegan friendly and uses carob powder, but says that cocoa powder would work just as well. And extra chocolate is always easy to add to treats like this, whether you just throw some chips in the mix as you stir them up or dip them in melted chocolate after they're cooled.
I can also appreciate the fact that she said a stand-mixer works when mixing krispie treats, since I make them fairly often. It's usually no trouble to ask my bf to mix them since he knows he's going to get rewarded with one. But it would be nice to be able to do it by myself without my wrists feeling like they're going to unhinge. And the krispies in havecakewilltravel's pic certainly look nice and whole, so I trust the advice.
As a frequent traveller, I would certainly enjoy having these in my bag over other mass market goodies they have in the airports. Get the recipe at havecakewilltravel's blog and enjoy better treats on the go.