Mark your calendars
February 24, 2008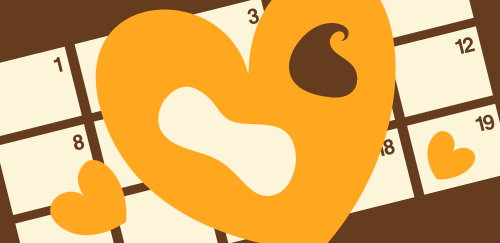 There are other chocolate holidays besides Valentine's Day?? Say what?!
There are actually many sweet holidays during the year (see full list after the break) that celebrate chocolate and peanut butter! But are these "holidays" made up? It seems that way considering there's even the oddly specific "Bittersweet Chocolate with Almond" Day. However, according to the people at The National Confectioner's Association they are perfectly valid holidays and that's sure good enough for me. Read how these days are determined on their website.
There is no doubt that there are a lot of fantastic days to celebrate- a total of 20 to be exact! But there is one clear day missing. National Chocolate and Peanut Butter Day! What's up with that? But really, one day a year is not enough for the fantastic c&pb combo anyhow. Every day is Chocolate and Peanut Butter Day!… at least at this blog.
Peanut butter & peanuts look to get a lot less celebratory days than chocolate, but they do get the entire months of March & November to be honored, so we can't complain too much. Chocolate lovers can enjoy the month of February at the City Bakery in NYC where they celebrate every day of the month with a fancy flavor of hot chocolate. This includes such craziness as Beer Hot Chocolate, and something awesome sounding called Sunken Treasure Hot Chocolate. Yum!
Full list of chocolate & peanut butter holidays:
Peanut Butter
March – National Peanut Month
November – Peanut Butter Lovers' Month
January 24th – National Peanut Butter Day (Yay!)
January 26th – National Peanut Brittle Day
Chocolate
January 3rd – National Chocolate Covered Cherry Day
February 14th – Um, hello?!
February 19th – Chocolate Mint Day
March 3rd week – American Chocolate Week
March 19th – National Chocolate Caramel Day
March 24th – National Chocolate-Covered Raisin Day
April 21st – National Chocolate-Covered Cashews Day
May 15th – National Chocolate Chip Day
July 7th – Chocolate Day
July 28th – National Milk Chocolate Day
August 4th – National Chocolate Chip Day
September 13th – International Chocolate Day
September 22nd – National White Chocolate Day
October 28th – National Chocolate Day
November 7th – National Bittersweet Chocolate with Almonds Day
December 16th – National Chocolate-Covered Anything Day
December 28th – National Chocolate Day
December 29th – National Chocolate Day
Why so many National Chocolate Day repeats? Who knows and who cares! Grab your chocolate bar and be happy!